Change
Current Location:
SW1W 8EL
Lala and Bea, Organic Sleep Tight Pillow Spray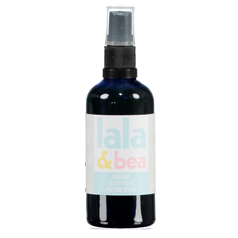 RRP: £14.00
Volume: 100ml

This handy pillow spray has relaxing relaxing and calming aromatherapy scents of Lavender and Ylang Ylang, with a base of Lavender filtered water to give the scent longivity. It can be sprayed directly onto the pillow and bedding before sleep or used as a room fragrancer.
Suitable for use during pregnancy.
All the ingredients are organic, and this product is not tested on animals.
Reviews
Reviews in chronological order (Total 1 comments)
Rating: 9.0 / 10

lilliesmum


23 Sep 2015 12:52pm


I received this pillow spray to test, and I really did like this product. I haven't used a pillow spray in the past, but I am a fan of lavender, and have used lavender oil in the past on my own pillow at night and also my little ones when she's has been restless. I really liked the fragrance, it wasn't too strong, and it didn't leave a greasy mark on the pillow. I did personally find the aroma calming, and it did evoke the calming sleepy feeling I associate with lavender. I have used this on my pillow for quite a few nights now - not just when I am finding it hard to sleep, and my little one seemed to like it too which is always a good thing!