Change
Current Location:
SW1W 8EL
Dr Brown's, Natural Flow Baby Bottle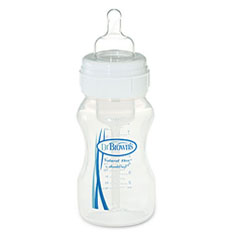 RRP: £6.63
Visit Website

Dr Brown's Natural Flow baby bottle has a special patented internal vent system that eliminates the vacuum and air bubbles that build up through the baby's natural sucking reflex. They are also BPA-free and have large numbers down the side to make measuring milk powder and water really easy. You can attach the bottles directly to a breast pump for ease of use. The teats come in a variety of sizes: slow flow, medium flow, fast flow, Y-Cut fast flow (good for thicker milks) and variable flow.
Reviews
Reviews in chronological order (Total 1 comments)
Rating: 10.0 / 10

adrienn, Mother of 1, Hampshire


20 May 2011 7:25am


Having bought many baby bottles before this one was recommended to me it was the best purchase i made. My son when he was a baby suffefered quite badly with wind and colic. I used to have to give him infacol before each feed but once i started using the Dr Brown bottles after about a week the infacol wasnt needed anymore and he stopped getting wind or suffer with colic. The bottle is a bit fiddly to clean especially the round thing that attaches to the valve and if the water is too hot the bottle will leak if you use it so you must make sure the warer is warm. Otherwise i didnt have any problems with it and i am planning to purcase the bottles again to use with my second baby.