Baby
Shopping
Baby Accessories Company Funky Giraffe Launch Range Of Socks and Moccasins
Baby accessories company Funky Giraffe have expanded their range and have now launched a range of stylish baby socks and adorable moccasins offering great quality and funky designs at an affordable price!
The moccasins come in a range of designs, including Strawberry Delight, Floral Fancies, Cheery Cherries and Dotty Chic! Not only do they look lovely but they'll make your little one feel snug as a bug! The range covers from 0-3 years and a single pair costs just £4.50 including postage and packaging, 4 pairs for £20.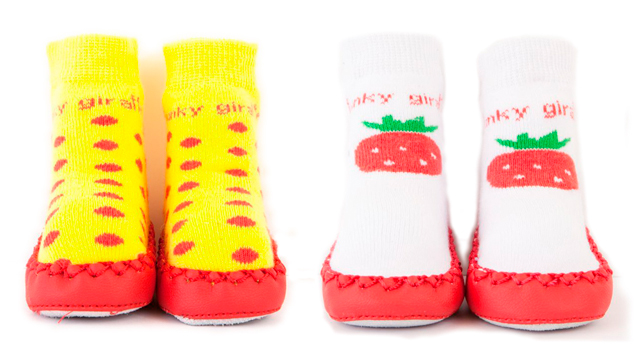 The range of socks are soft and warm and socks in size 1 have an added safety feature too; paw print shaped plastic press bottoms which reduce the risk of slips and falls and which look great in their own right. A single pair of socks costs just £1.50 including potage and packaging, 5 for £5.50, 10 for £11.
Funky Giraffe was set up in 2009 by Yasmin Drury, having worked for a major retailer she was all too aware of the cost of production and the massive mark up charged by companies. As a mum herself, she knew what she wanted for her son and set out to produce funky designs at a reasonable price.
The current range includes...
Socks from £1.50
Moccasin socks from £4.50
Bandana bibs (also known as Baby bibs) from £1.98
Personalised bandana bibs from £4
XL bandana bibs from £3
Playsuits/rompers from £7
Burp clothes from £4
Hats from £4
Tried and Tested!
Funky Giraffe only use fabric made to OEKO-TEX standard 100 for baby garments. They print their own items and only use water based inks, (while solvent based inks are legal, they come in big tins marked with a big X and Harmful, as bibs get chewed this did not seem right). The company only use inks that are completely non toxic.

For more information about the brand please visit us at www.funkygiraffebibs.co.uk

Follow us on:
Facebook - Funkygiraffebaby
Twitter - @FunkyGiraffebib

Have Your Say
Be the first person to comment on this article, just post a comment below.