Baby
Parties
Party Magic Box
Themed party plates, balloons and invitations are just a few items that will transform the look of any children's party. And ordering online is the only way to ensure that everything is in stock and in the quantities that you need. We take a look at Stephanie Monro's new party supplies business and get some of her great party planning tips.
You're invited...
Every parent wants their child's birthday to be perfect. And it's surprisingly easy to order the majority of the party paraphernalia online while you spend time making the cake (or buying), remembering whom to invite (and who's coming) and getting the house ready for mayhem. What doesn't make sense is to go, at the last minute, to the supermarket and expect to find the right themed tableware in stock and in the quantity you need.
So It's no shock that online shopping has become the easy route to party planning and that the selection available surpasses what you'd find anywhere else. Plus you can easily stick to a budget and have fun with your child putting the party bags together.
Hassle free party planning
With over 20 years of experience in child care, Stephanie Monro started Party Magic Box last year. Ever since, the London based online party supplies store has been a hit. The Magic Box's party themes vary as much as children's tastes. From the classic fairytale princess and Whinnie the Pooh to the seasonal and popular characters, such as The Gruffalo and Toy Story, Stephanie tries to keep her stock fresh and looks for the unusual.
Stephanie's tips for organizing a children's party are to plan ahead and get the children involved in choosing the theme or party treats. For children who share their birth date or month with a sibling or a friend, Stephanie finds it a clever idea to combine the parties, even if the themes are different.
Party favourites
A baby's first birthday is always a special occasion. Even though babies unlikely remember their first birthday party, it is a great time for parents to gather friends and family and record memories for the future. The Magic Box's most popular themes are Peter Rabbit or In The Night Garden. For toddlers and pre-schoolers party boxes are in high demand at the moment. Fill them with a slice of cake to take home or cute party favours.
Baby Directory Readers receive a 10% discount at the check out! Offer code: BD12. Click here to take a look!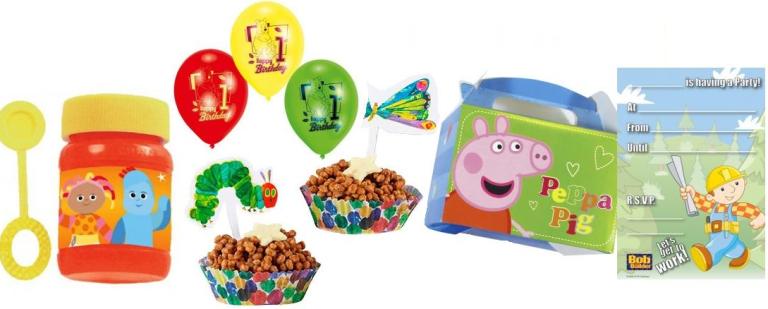 Related Forum Topics
Forums: Baby
Have Your Say
Be the first person to comment on this article, just post a comment below.